SPRING 2012, ISSUE 2
— Tracy Cox-Stanton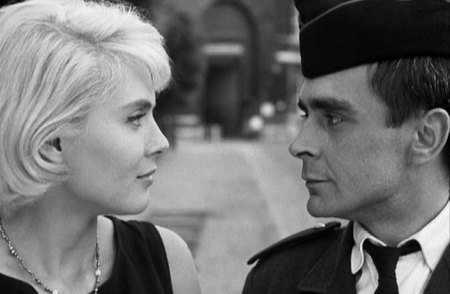 As we launch The Cine-Files, it seems appropriate to focus on the French New Wave, that canonical object of cinema studies around which the concept of cinephilia coalesced into its most cohesive and articulate form.  Through the now-legendary Cinémathèque Francaise, a generation of critics-turned-directors was exposed to an unprecedented variety of films from a wide swath of places and times.  As Henri Langlois, the indefatigable and beloved director of the Cinémathèque told the young filmmakers, "You must 'eat' [sitting up close, voraciously consuming every moment] at least 300 films before you can make your own"—hence the legend of this New Wave of directors whose films evince an original reworking of the themes, grammar, and narrative strategies of cinema's past.[1]  New Wave directors filtered this past through their own biographical and cultural concerns, and the possibilities of cinematic language proved endlessly rich for their expression.
We wanted, in this issue devoted to the New Wave, to reflect on the movement's significance and to question how and why it finds relevance among scholars and filmmakers today.  We were interested, too, in bringing together the distinguished professionals who have defined our field with the eager neophytes, current college students, whose first encounters with the New Wave occurred in the 21st Century.  How might they view this movement differently?  How do the circumstances of our introduction to the New Wave affect our view of it?  Are our experiences marked by the same types of cinephilia and nostalgia for a long-gone generation?  Is there a danger in nostalgia?  These essays and interviews evoke such questions for the reader to ponder.
My own introduction to the New Wave occurred in the 1990s, when I was a college student.  The images, though 30 years old, seemed entirely fresh and alive, and they provided the entrance to a world in which I would eventually hang my hat.  I remember, soon after my discovery of the New Wave, being told by a professor that "film is dead," a decree that took me aback.  For me, it had just begun to live.  Analog film might have been on the wane, but VHS tapes and DVDs expanded my world in a manner that significantly altered my life's course.  And for today's internet-savvy students, the possibilities are almost limitless; a virtual cinémathèque is in the air they breathe.
Langlois distinguished the cinephile from the cinephage.  The cinephage, or film nerd, Langlois said, "sits in the front row and writes down the film credits…. But that's not the point of the movies.  To love cinema is to love life, to really look at this window on the universe."[2]  Today, New Wave films—whether projected in a darkened theatre or screened on a laptop computer—continue to provide that "window on the universe" for young scholars and artists, as evident in many of this issue's student writings. For the last 12 years, as a professor of cinema studies, I've observed many students encounter the French New Wave for the first time and negotiate the films' intellectual and aesthetic challenges.  Though I've certainly witnessed my fair share of students view Contempt with contempt, I've seen many more respond with an impassioned and critical cinephilia that alters their relationship to film, as both budding scholars and filmmakers.
In their response to New Wave films, students recognize that American movies have trained them to accept an impoverished view of what it means to be "consequential."  The subtle revelations of many New Wave films teach us that seemingly inconsequential, everyday details can reveal life's truest, most telling moments.  In Kent Jones's Criterion essay on Rohmer's My Night at Maud's, he comments on a scene that appears to have no narrative significance:  As the film's protagonists Jean-Louis and Maud engage in weighty conversation, Maud's young daughter enters from the next room and asks to see the lights on the Christmas tree.  Jones describes the mundanity with which the scene is treated:  "It's all done in one medium-shot, and the everyday luminousness of Almendros's [the cinematographer] imagery isn't even slightly jacked up on behalf of the tree or the girl."[3]  He describes how this scene, far from being inconsequential to the film, "allows us an unusual opportunity to scrutinize his characters' every move," anchoring the narrative within the specific demographic of middle-class, 1960s provincial France.[4] This "window on the universe" quality of many New Wave films evokes their antecedent in the two key "realisms" their directors encountered at the Cinémathèque—Italian Neorealism and, preceding that, the films of Jean Renoir. The scene in My Night at Maud's, in fact, recalls a very similar scene in Renoir's Grand Illusion, in which Elsa allows her young daughter to wake up late in the night and view the humble nativity scene she and her houseguests have fashioned out of fruit.  The scene does nothing to further the narrative, and yet it provides a substantial anchor for the film's themes and emotional core.   Jones writes of this "realist" mode, "As long as you're not hankering for someone to draw a knife or make a declaration, this provides the way toward a remarkable form of suspense."[5]
And yet, as Elliot Thompson's essay on Masculine Feminine in this issue reminds us, drawing knives and making declarations are activities well within the oeuvre of the New Wave.  The deployment of these common tropes, however, typically results in something alien to the Hollywood experience.  In the French New Wave, these categories that we typically oppose—entertainment/critique, beauty/politics, narrative/documentary—often intermingle in exciting and provocative ways, elevating cinema's base mechanical tools into revelations that illuminate the existentialist questions that frequently underlie these films.  And yet the films ground these seemingly universal themes within a very specific topos, never closing off the door to real world critique.
But there are some problems.  The language of Langlois—"to love cinema is to love life"—is the language of a bygone era. Its Bazinian mystification and humanism have been effectively critiqued by generations of film critics and theorists who, following the radical rethinking of the relationship between cinema and ideology that began in 1968, sought greater objectivity and rigor in their approaches to cinema, reminding us that numerous infrastructures (economic, semiotic, patriarchal, etc.) underpin cinematic creation.  The "personal expression" of the auteur that went hand in hand with cinephilia was challenged by the view that "individuals" are actually repositories of various, sometimes contradicting, ideologies.  This conflict surfaced quite vividly in a recent guest lecture at SCAD by Richard Neupert, whose lively and astute discussion of Truffaut's film criticism illuminated the sexism and homophobia that plagued both his reviews and his relationships.  A student questioned, "Why should we revere this artist who was such an obvious sexist and homophobe?"  Her question, innocent and simple as it sounds, isn't an easy one to answer.  I can offer her a wavering, "Well, we shouldn't revere him, but…." Perhaps that is an answer.  There is a danger in revering a filmmaker or a film movement, because our admiration enables us to overlook substantial problems, foreclosing the sometimes painful but important work of objective critique.  And yet the passion with which the New Wave generation approached cinema inspires that reverence in most of us.  Chad Newsom's essay in this issue wrestles with these questions as he discusses the value of early Cahiers criticism.  Its enthusiasm, its wild polemic, its attention to the details of a film, its interest in defining good cinema—these are all attributes Newsom esteems and finds missing in much of today's film writing.  And yet those same attributes, he notes, can lead to unfortunate excesses and failings.
Another problem arises when we consider the movement's outliers.  I've based much of this introduction around the New Wave directors' status as cinephiles who uniquely reworked film history.  And yet my own favorite New Wave director, Agnès Varda, reportedly stated that she'd seen only about five films before she made her first feature, La Pointe Courte, the film that, by most accounts, kick-started the New Wave.  We attempt to re-integrate Varda and other "Left Bank" filmmakers such as Chris Marker and Alain Resnais, but many anomalies remain.   We can't help but recognize that the story we've constructed around the label "French New Wave," despite its attraction, might be a bit too tidy, and perhaps that tidiness tells us more about our own needs than it does about the actual era of New Wave filmmaking.
Nevertheless, these films continue to resonate with audiences old and new.  Interestingly, the student filmmakers who stake their claim to the New Wave legacy in this issue speak of their own films in terms of feminist and queer concerns.  This certainly problematizes any hasty dismissal of New Wave filmmakers for their shortsightedness regarding gender and sexuality.  These students also recognize the relationship between their attraction to New Wave films and their own adolescence, finding methods and themes that help them oppose their dominant cultural forms.  The need to reject the cinema and culture "de papa" burns as urgently in 2012 as it did in 1959.  I am reminded of James Naremore's defense of the "adolescent" impulse of the New Wave:  "Before we rush to proclaim ourselves adults and scholars, we should remember that adolescence is an important period of human development—a period of cultural resistance, when discoveries are made."[6]  These themes— resistance and discovery— resonate through much of the writing in this issue of The Cine-Files and point to the New Wave's tidal influence on our discipline.
Our journal's statement of purpose pronounces, "We believe that cinema—in all its eclectic forms of the past, present, and future—is both pleasurable and substantive, and we devote these pages to its passionate analysis."    The essays and interviews in this issue point to the New Wave's continued ability to deliver that unique combination of pleasure and substance.  We greatly appreciate the generosity of our contributors.
Posted on May 28, 2012
---